STAMPINGMASTERS ENTERPRISE CO., LTD.
GOOD CATCHER
GOOD CATCHER
GOOD CATCHER
ACT-5
Advantage
1.High productivity
GOOD CATCHER is able to shorten the processing time especially for the small amount of various production.
2.Easy installation
Thanks to the intuitive design, the installation could be done in few minutes. Without complicated structure, GOOD CATCHER has low maintenance requirement.
3.Safety Improvement
GOOD CATCHER could prevent the operators from the injury caused by pressing. The work safety is guaranteed.
4.Labor Saving
With GOOD CATCHER assist, no labors are needed to unload the parts while pressing. The manpower could be saved with no doubt.
5.Power Saving
GOOD CATCHER is driven by the kinetic energy from press machine. Electricity is totally not required.
6.Noise Reduction
GOOD CATCHER replaces the air compressor for the blowing. It offers a better working environment with less noise.
Specification
影片參考及詢價:請點擊
Improve the productivity and work safety。
Nice catching from compound Die.
1.Stable Catch

Top Dead Point:

Parts fall & Tray catches

2.Smooth Slide

Midway:

Tray is driven to move parts

3.Precise delivery

Bottom Dead Point:

Parts are delivered to the container.
1.Quality issue and Dies-Broken due to air blowing
2.Low production efficiency
3.Operator injury

1.Reduce the defects and Dies-Broken
2.Increase productivity
3.No accident
Specifications and dimensions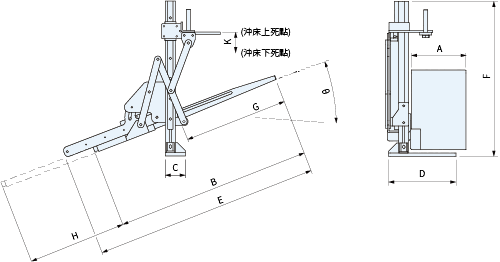 品號

Product No.

A
托盤(Tray)
B
托盤(Tray)
C
D
E
F
G

H
托盤移動

(Tray Movement)

ACT-5-300-80
150
750
60
200
800
500
320
300
ACT-5-300-100
ACT-5-300-120
ACT-5-300-150
ACT-5-300-160
ACT-5-300-180
ACT-5-300-200
Type

K
沖床行程

(Punch stroke)

TS
沖床噸數

(Punch Tons)

沖床型式

(Punch type)

閉模高度

(Mould closed height)

SPM
每分鐘沖數

(strokes per minute)

θ
最大傾斜角

(Maximum inclination angle)

沖壓件重量(kg)

(Stamping weight)

ACT-5
80
80

傳統沖床

(traditional punch)
氣壓沖床

(Pneumatic punch)

≦500
<50
60
<0.7
100
80
150
80
80
110
100
110
180
110
120
160
<40
200
160
120
200
160
260