STAMPINGMASTERS ENTERPRISE CO., LTD.

886-3-4527557

886-3-4511072

No.20, Xinbeiyuan Rd., Zhongli Dist., Taoyuan City 320, Taiwan

www.tohatsu.com.tw
About Us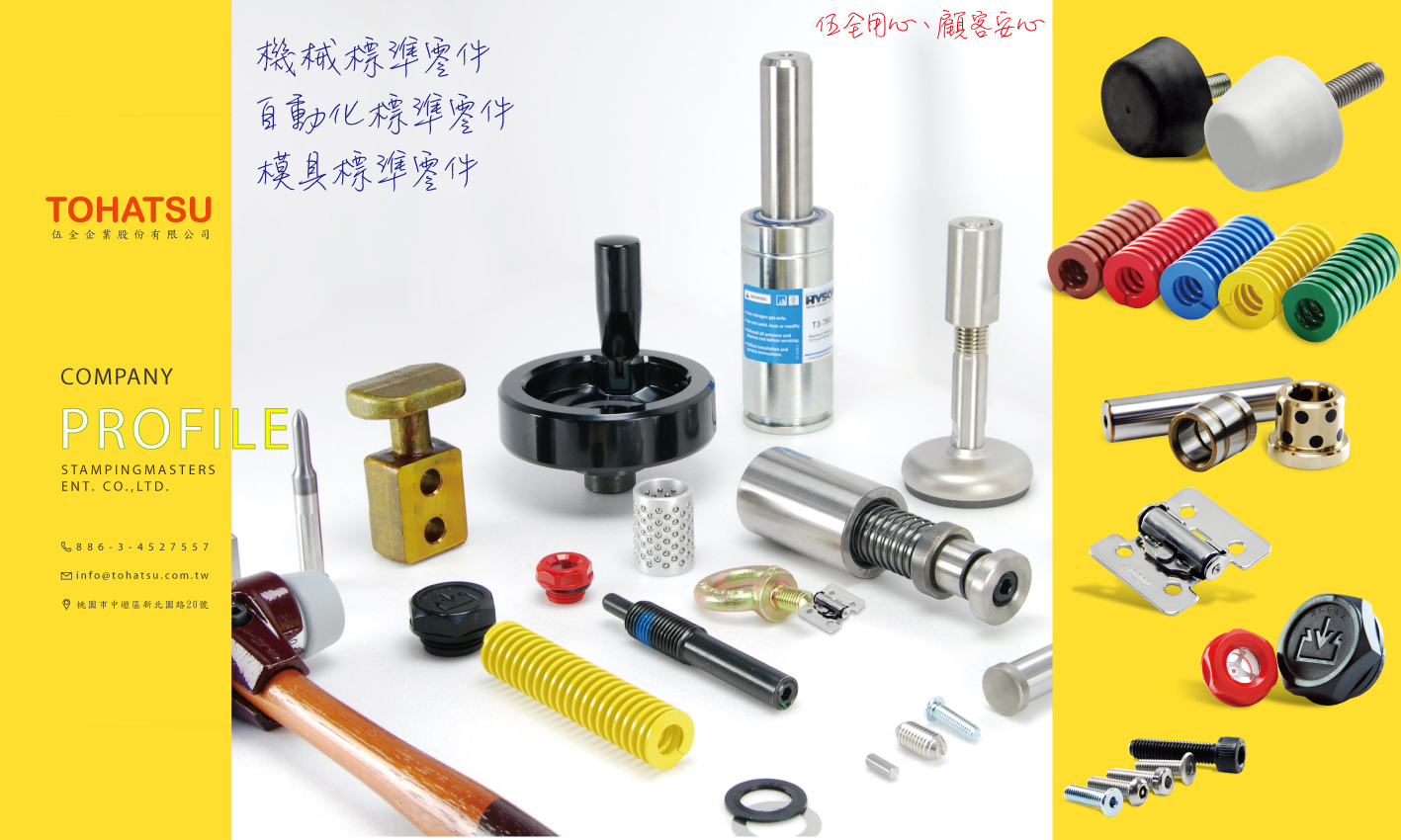 In 1987,TOHATSU is headquartered in Zhongli Taoyuan. We have five sales locations in Taiwan. Specialized in design,manufacturing,and sale of standard DIE & MOLD and machinery components. In addition to our own products,we also distribute world-class standard components from Japan, Germany,Switzerland,Italy,the United States and other countries. We have been engaged in Mainland China market since 2002. Now we have distribution locations in 11 cities,including Shanghai and Shenzhen.
Taiwan DIE & MOLD industry remained at the middle-low phase from 1980s to 1990s. To advance to high-end level,l it requires high-precision components. TOHATSU has imported and franchised high-precision products from other countries to improve the precision and efficiency. During the period of agent, we understood the importance of brand value. 50 we registered the brand name,TOHATSU,in Taiwan and China in 1993 and 1994.
Over the past 30 years,TOHATSU follows Taiwan's industrial changing. We expanded products from DIE & MOLD field to machinery,automobiles, semiconductors, food, architecture, automation, medicine,and other fields. Today,with over 70,000 standard parts in stock. We provide convenient and speedier services to our customers.
TOHATSU will continue to develop R&D,new products,create new applications,and explore new markets with our partners. With 30 years of expertise and experience,TOHATSU will continue to provide innovative services and various products. Look forward to creating the better next 30 years.
Follow Us
STAMPINGMASTERS ENTERPRISE CO., LTD.

886-3-4527557

886-3-4511072

No.20, Xinbeiyuan Rd., Zhongli Dist., Taoyuan City 320, Taiwan

www.tohatsu.com.tw