Dicing Blade
Dicing Blade
Dicing Blade
Introduction
KINIK Company announces the introduction of Super Hubless Dicing Blade with resin, metal and nickel matrices. The dicing blades are manufactured by specialty consolidation, sintering and eletro-forming process that improve the uniformity of the thin blades. They are suitable for cutting ceramics,brittle materials ,optical glass,printed circuit boards,especially for semiconductor packaging.
Specification
Blade Specifications
1.Nickel blades: ex:56 x 0.1 x 40mm 10/20um

2.Resin Blade & Metal Blade: ex:58 x 0.2 x 40mm D400 C50

Accessories-Dressing Board
1.Feature
Dicing Saw can be dressed up via dressing board to increase sharpness, and reduce the chipping of the work piece.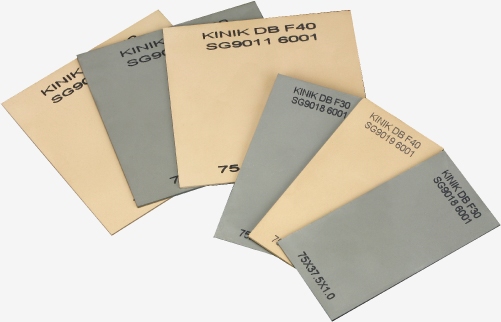 3.Recommendation
Spec.
Dicing Blades
Electroformed Bond
Metal Bond
Resin Bond
GC600
#400~#1200
#400~#1200
#200~#1000
GC1000
#1500~#2000
#1500~#2000
#1500~#2000
GC2000
#2000~#3000
N/A
N/A
F30
#1800~#3000
N/A
N/A
F40
#3500~#4500
N/A
N/A
F50
Over #4500
N/A
N/A
WA400
N/A
#320~#400
N/A
WA800
#600~#1200
#400~#1200
N/A
WA1000
N/A
#1500~#2000
N/A
WA2000
N/A
#2000~#3000
N/A