EASTAR MACHINE TOOLS CORP.
About Us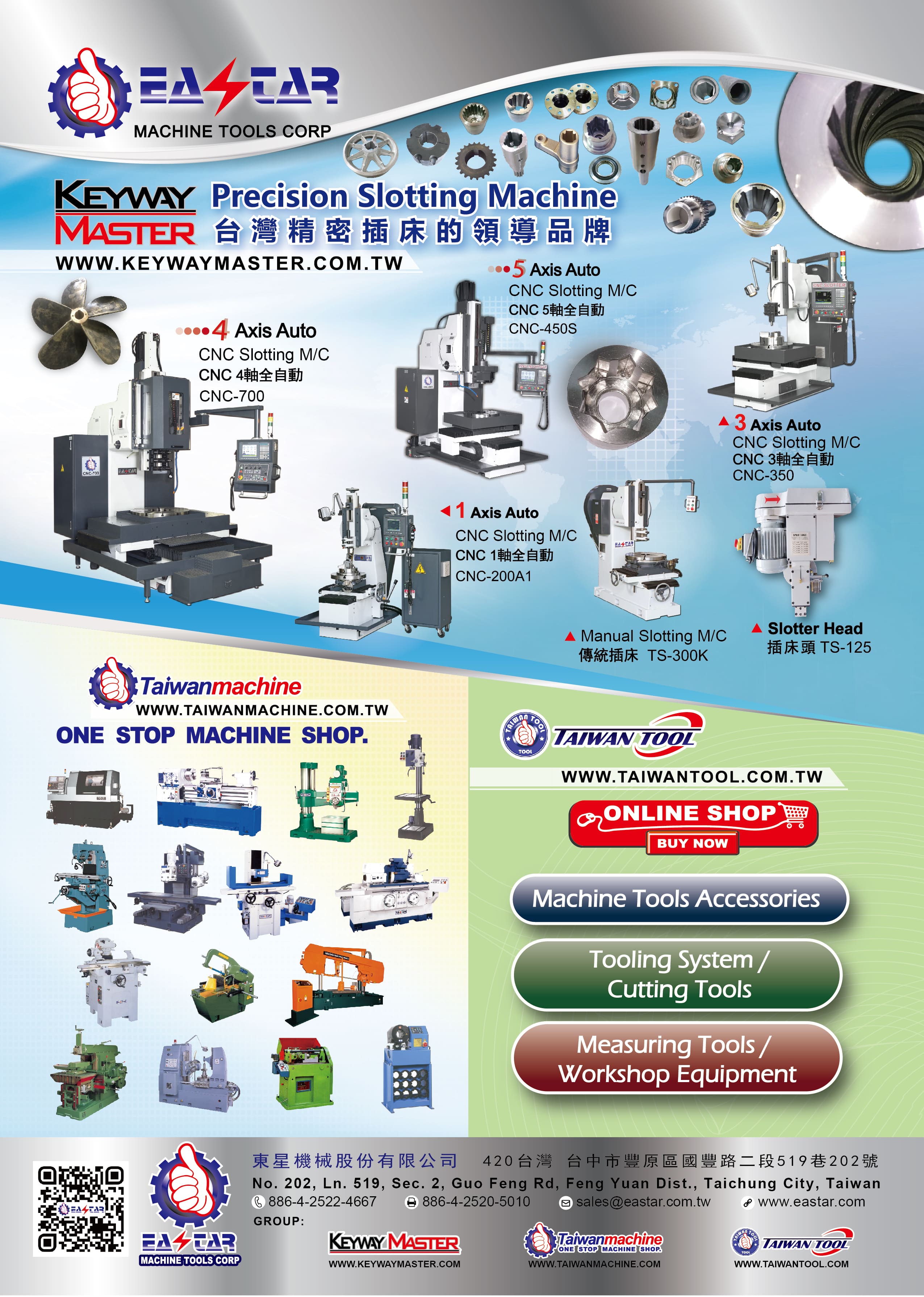 Eastar Machine Tools Corp., founded in 1967, is a professional manufacturer of both traditional and CNC Slotting Machine with a 6000 square meter factory area located in the central part of Taiwan. In 2009, a series of CNC Education Machines including Train Mill & Train Turning Lathe were developed for both industrial & educational market.
We also set up a Trading Department serving foreign customers looking for high quality Taiwan Machine Tools and Machine Accessories for more than 20 years.
Eastar group has 4 categories as below:
Slotting Machine – www.keywaymaster.com.tw
Education Machine- www.mastertrain.com.tw
Metal Working Machinery www.taiwanmachine.com.tw
Taiwan Tool On Line Shop www.taiwantool.com.tw
Our complete product range provides a good sourcing solution platform for customers. Eastar offers not only excellent machines but also top-notch service including:
Professional & hard-working Sales Team can efficiently help customers find suitable machines at reasonable prices. Saving customers a lot of time and money.
Well-trained and responsible inspectors ensure that every equipments and accessories shipped by Eastar is free from quality issue. .
Experienced shipping staff handles all the shipments in a thoughtful and timely manner. If shipment consolidation is required, we also can provide professional service saving customers' time and money.
Renew products on line regularly so customers can have most updated machine information.
Eastar is the best business partner you can trust with. You are welcome to visit our websites or contact us at any time. We do value all the opportunities you give us. Thank you.
(T): +886-4-25224667
(F): +886-4-25205010
Email: sales@eastar.com.tw
(A): No. 202, Ln. 519, Sec. 2, Guo Feng Rd.,
Feng Yuan Dist.,Taichung city, Taiwan 42073
Follow Us
EASTAR MACHINE TOOLS CORP.

886-4-25224667

886-4-25205010

No.202, Ln. 519, Sec. 2, Guofeng Rd., Fengyuan Dist., Taichung City 420, Taiwan

www.eastar.com.tw
Contact Us