SHIEH YIH MACHINERY INDUSTRY CO., LTD.

886-3-3525466

886-3-3525488

No.446, Nanshang Rd., Guishan Dist., Taoyuan City 333, Taiwan

www.seyi.com/
About Us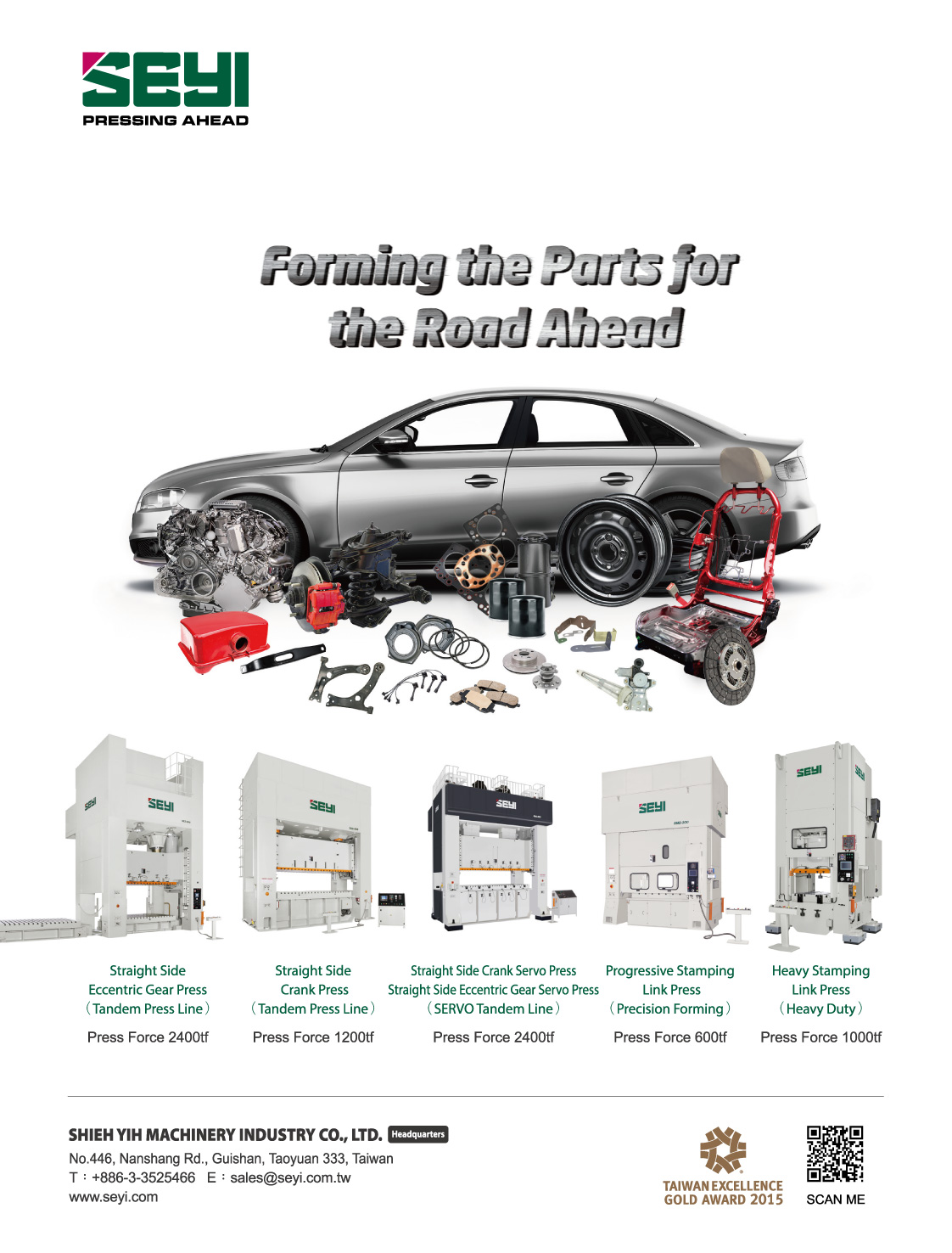 Since its founding SEYI has always worked to provide a superior product at a reasonable price with complete service to our customers while maintaining the highest professional and ethical standards.
The SEYI press is built to meet the toughest demands of the stamping room floor. Only high quality machines will be able to remain productive over time. By continually evolving our press designs over the last 50 years to implement the latest features and manufacturing technologies, SEYI has gained a reputation for excellence.
SEYI has excelled by emphasizing concepts:Utilize the best techniques and technologies to develop the best products.
●TOP DEVELOPMENT
Maintain growth through the introduction of new products and technologies.
Let long term goals guide the growth and structure of SEYI.
Provide the customer a total solution with an emphasis on complete customer service.
●ETERNAL SERVICE
These concepts guide our non-stop improvement and development in all areas of the company from production to sales, human resources, R & D , and finance. SEYI has formed joint ventures with other international high technology companies to improve our existing knowledge base and expand our product line.
Our goal at SEYI is TOP DEVELOPMENT, to quickly provide the highest quality machines at a reasonable price with the latest technology. Exceed the latest safety standards and providing the best service to obtain the complete confidence of our customers. By doing this SEYI will attain eternal corporate stability allowing us to provide ENERNAL SERVICE to our customers. Thus TOP DEVELOPMENT , ETERNAL SERVICE is not only our motto but my and SEYI's promise to you with thanks for letting us earn your business.
Follow Us
SHIEH YIH MACHINERY INDUSTRY CO., LTD.

886-3-3525466

886-3-3525488

No.446, Nanshang Rd., Guishan Dist., Taoyuan City 333, Taiwan

www.seyi.com/