NAN KUI INDUSTRIAL CO., LTD.
About Us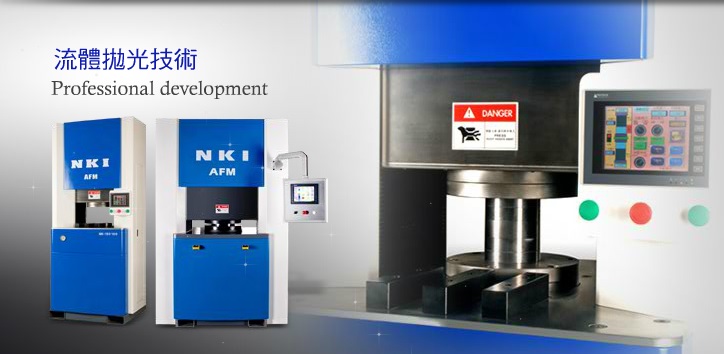 Being a specialized supplier of metal surface treatment and relevant products,
NKI Industrial Co., Ltd. has successfully developed its own viscoelastic abrasive media
for abrasive flow machining and started such sales since 2007. Thus, the company has now
become increasingly successful in the manufacture and sales of multi-functional
flow machining and abrasive media.
It is a must for flow polishing in the non-traditional processing technology,
together with applicable machine models for different working pieces. For the time being,
there are one-way, dual-ways, and multi-ways, with the dual-ways regarding as
the universal model. In 2009, the company introduced a multi-functional,
high quality abrasive flow machining series, including from the small type
(grinding cylinder dia. 80mm) up to large sized (grinding cylinder dia.300mm)models.
With its expertise in high-end abrasive flow machining and R&D efforts over the past years,
the company also debuted a third-generation model with control and oil systems.
In addition to the reservation of monitoring system used in the first generation and
the hydraulic system in the second generation, the stable polishing system in the
third generation can monitor the on-time grinding movement and change of volume.
The quality of such polishing is better than other general machine models.


Follow Us
NAN KUI INDUSTRIAL CO., LTD.

886-2-29021989

886-2-29021978

No.544-24, Zhongzheng Rd., Xinzhuang Dist., New Taipei City 242, Taiwan

www.nki.com.tw