DEFEND GROUP CO.,LTD

886-7-7027172

886-7-7027173

No.42, Ln. 111, Lide Rd., Daliao Dist., Kaohsiung City

www.defend.tw
We've Been Accredited Certification

ISO 9001

IATF 16949

ISO TS-16949

TUV
About Us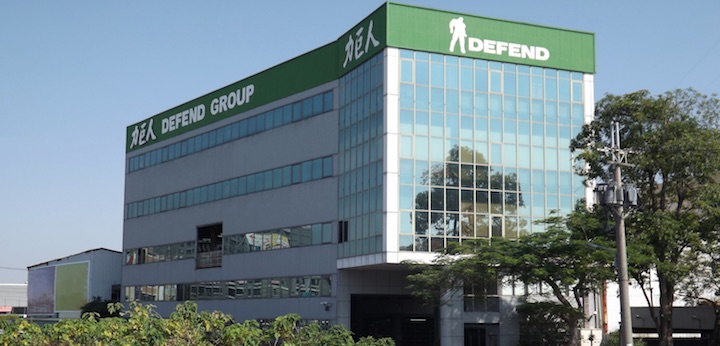 DEFEND Group Co., Ltd. is a professional manufacturer of car gearshift lock which was established in 2003 in Kaohsiung. Now following the marketing development that we not only produce gearshift lock but also design many kinds of products in anti-theft and safety warning system, such as electromechanical gearshift lock, steering wheel lock, car steering shift lock, hood lock, tire lock, motorcycle lock, solar LED parking warning light, solar screw-type warning light, 4 in 1 warning light, emergency brake system, wireless warning light, flashing rescue vest, etc. We obtain the patent and copyright for products, meanwhile become the main supplier of automakers and the best choice for the consumer.
Not only the products but company management, DEFEND Group emphasizes the quality guarantee and after-sales service. With our staff cooperation, we have passed the ISO 9001:2015 certificate in 2018. Now, DEFEND Group has enhanced the market leadership and image, development and design with a view to supplying our customers the best service and much safer anti-theft products.
DEFEND GROUP is known for original equipment manufacturer (OEM) and original design manufacture (ODM). We provide OEM services according to customers' requirements, and also design and manufacture, or even produce customized products for our customers. In the factory, DEFEND GROUP requires strict high-quality production line and quality control. A solid reputation for quality in the market comes after hard work for more than 20 years. In addition, in order to improve our international competitiveness, DEFEND Group Co., Ltd has led the "IATF 1694" into our company management, and passed the "ISO/TS16949:2016" certification in 2019.
We insist on 4 business philosophies as follow:
Innovative technology, High efficiency
Reliable quality, Customer confidence
We are eager to optimize our business organization, expecting further projects and forward cooperation business around the globe.
---------------------------------------------------------------------------
HISTORY
2019
DEFEND GROUP CO. participated in the 2019 Automechanika Dubai exhibition.
2018
DEFEND GROUP CO. participated in the 2018 AAPEX exhibition.
2018
Passed IATF 16949:2016 certification.
2018
Passed ISO9001:2015 certification.
2017
Invited to attend 2016 SBIR presentation in ​​kaohsiung city.
2017
Our gearshift lock sales volume reached 7 hundred thousand ​sets.
2016
Gains Small Business Innovation Research Program (SBIR) in 2016.​
2015
FORD FIESTA had gained certification by FORD LIO HO Asia Pacific.
2015
TOYOTA Levin and Yaris L had gained certification by OAC TOYOTA MOTOR CO.,LTD.
2014
FORD KUGA had gained certification by FORD LIO HO Asia Pacific.
2013
Passed ISO9001:2008 and ISO/TS16949:2009.
2012
NISSAN lead DEFEND LOCK into the market.
2011
Mechanical gearshift lock sales over 1.8 million sets around the world.
2010
DEFEND MATIC gains innovation awards of Taipei AMPA in 2010.
2010
A SBIR of Kaohsiung city.
2010
CARMAX lead DEFEND LOCK into the market.
2010
DEFEND GROUP built a new factory at Daliao Kaohsiung.
2009
DEFEND Group attended the AEF exhibition in Guangzhou.
2008
A headquarter company in Kaohsiung gained the ISO 9001:2000 certificate.
2007
A company branch set up at Guangzhou in China. The gearshift lock was passed the test of the ministry of public security of the people's republic and police electronic products under the ministry of public security of China. Every targets have reached the ministry of public security standard.
2006
A production headquarter in Europe, Germany and Spain set up a development joint venture branch.
2006
Sets up MATIC GENERAL CO.,LTD..
2005
DEFEND GROUP launched many kinds of products including DEFEND LOCK,DEFEND LOCATOR,DEFNED GARGO,DEFEND ALARM,DEFEND HOOK.
2004
A 10 years anniversary celebration in Prague, and new name of DEFEND GROUP,launched the new products of DEFEND LOCATOR with 24 hours service. products of DEFEND LOCATOR anti-theft system, it is call center in 24 hours.
2003
A headquarter company was set up in Kaohsiung Taiwan, DEFEND Group Co., Ltd, at the same time, the new operation headquarter in Prague.
2002
DEFEND-LOCK CO., LTD promote business in Taiwan market.
2001
A company branch was set up in Moscow, successfully design and sell 3rd generation gearshift lock.
2000
A company branch in UK,at the same time, set up a DEFEND MOTOR SPORT in Czech.
1999
A company branch and auto financing in Russia, the 2nd generation gearshift lock is gained safety certificate in automaker and non-life insurance.
1998
A company branch and ads company were set up in Hungary,successfully design and sell 2nd generation gearshift lock, gain many patents.
1997
We created our first generation of gearshift lock, and get the certificate of TUV.
1996
A company branch was set up in Prague to sell the electromechanical gearshift lock, start to expand business into east and west Europe.
1996
Set up a company named DEFEND-LOCK CO., LTD., exports the gearshift lock and the steering wheel lock.
1995
We gained a certificate of product safety, set up a branch in Slovakia at the end of this year.
1994
Established in Czech, the main products are tradition anti-theft lock, car steering lock and U-type gear lock.
Follow Us
DEFEND GROUP CO.,LTD

886-7-7027172

886-7-7027173

No.42, Ln. 111, Lide Rd., Daliao Dist., Kaohsiung City

www.defend.tw
Contact Us