RICH SOU TECHNOLOGY CO., LTD.
About Us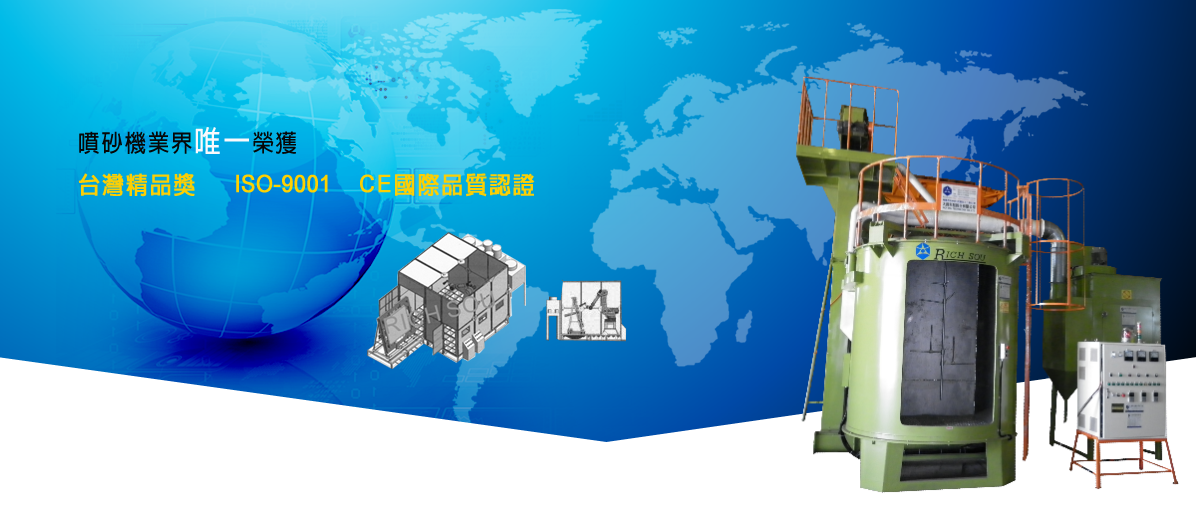 RICH SOU TECHNOLOGY CO.,LTD was founded in 1986 specializing in CNC Engraving Machines and sand blasting equipment for professional applications. The company is both ISO9001 and CE certified, and has won many awards including the Best product of Taiwan Foundry Society .
RICH SOU is also a registered trading company and serves as an agent for various European and American made abrasives. The company supplies various parts and accessories for sand blasting equipment such as boron carbide & tungsten steel nozzles.
RICH SOU exports a complete variety of sand blasting and surface treating equipment. Company President Mr. Chen Lin-Shan earned his doctorate from the Taiwan Prominent Inventor Association, and has been summoned by the President of Taiwan for discussions and photographs. In 2005, out of more than 60 prominent doctors and professors, he was elected committee manager of the Taiwan Foundry Society Casting, which has hosted representatives from Germany, the USA and Japan at more than ten academic symposiums.
Follow Us
RICH SOU TECHNOLOGY CO., LTD.

886-7-3714027

886-7-3716924

No. 27, Chukung 2nd Lane, Jen Wu Hsiang, Kaohsiung Hsien, Taiwan

www.richsou.com.tw
Contact Us