2023-02-08
[Guang Dar Magnet Ind.] GMD-□ GMD-○ Tunnel-Type Demagnetizer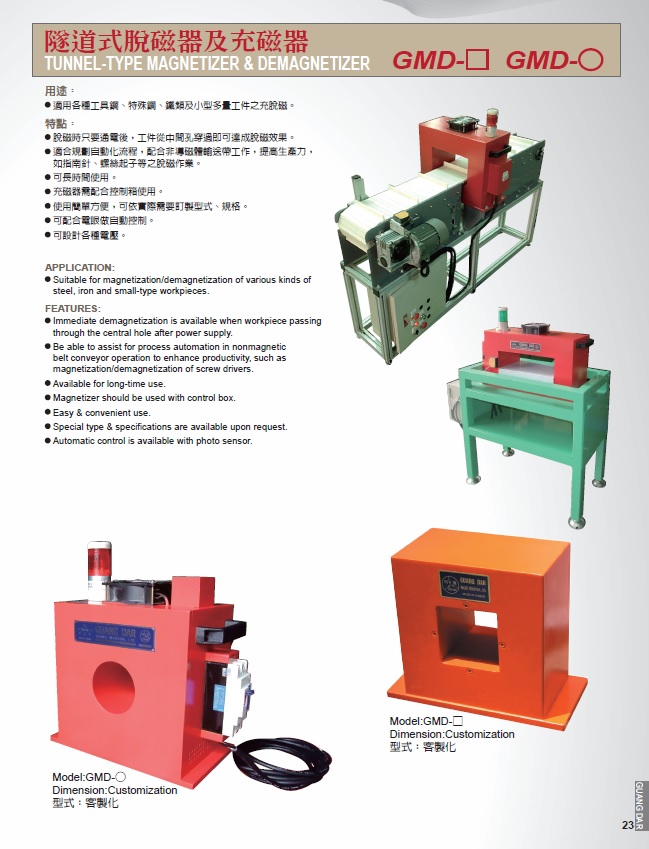 APPLICATION:
Suitable for demagnetization of various kinds of steel, iron and small-type workpieces.
FEATURES﹕
Immediate demagnetization is available when workpiece passing through the central hole after power supply.
Be able to assist for process automation in nonmagnetic belt conveyor operation to enhance productivity, such as demagnetization of screw drivers.
Available for long-time use.
Easy & convenient use.
Special type & specifications are available upon request.
Automatic control is available with photo sensor.
Official Website: https://www.guangdar.com/magnetizer-or-demagnetizer.html

TEL : 886-4-24360757
FAX : 886-4-24366225
No. 24, Lane 123, Tungshan Rd., Sec. 1, Peitun Dist., Taichung City 406, Taiwan