AN SU YI INDUSTRY CO., LTD.

886-4-7352312

886-4-7361643

No. 216-1, Chang Shin Rd., Sec. 2, Ho Mei, Chang Hua Hsien,Taiwan

www.suyispring.com.tw
About Us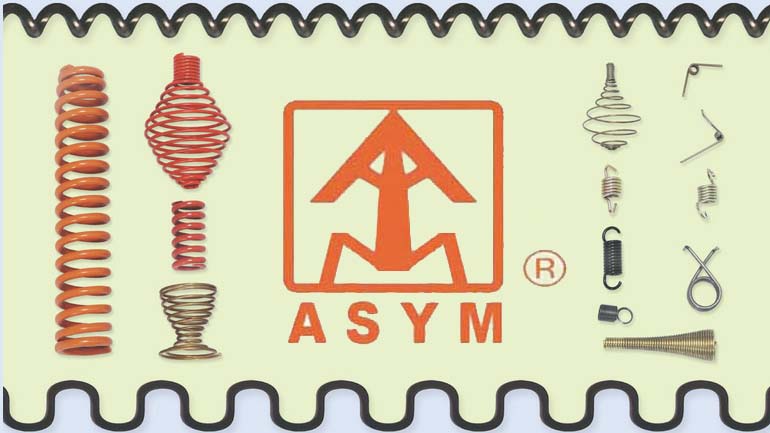 Our company is specialized in the production of spring making machines, our mechanical products have promoted to over 40 countries around the world at reasonable prices, superior quality, precision and stability, which received our customers' trust and support in many industries.
1980
We founded Yu Hong machinery factory in September 1980, produced 14DTJ single head spring coiler and 14 type of compression spring making machines, the quality got trust from various industries.
1982~1995
Since 1982 to 1995, Kingdom of umbrellas and ratchets of sporting equipment, curtains, binder clips, file folders for stationery, toys, electrical equipment and the spring of shock absorbers in front of bicycles in the 1990s were mass production, 90% of those springs were manufactured from our company's spring making machine.
1982
Our company changed to Su Yi Enterprise, built our brand and registered trademark in 1982.
1985
We started to promote export market and change to An Su Yi Industry Co., Ltd. in 1985, our products already sold to Hong Kong, Thailand, Singapore, Malaysia, Indonesia, Philippines, Mainland China, Viet Nam, Turkey, Japan, India, European, Portugal, United States, United Arab Emirates, Lebanon, Syria, Pakistan, South Africa, Morocco, Peru, Australia, New Zealand, Colombia, Argentina, Bolivia, Mexico, Chile, Egypt, Brazil, North Korea, Myanmar, Russia, Azerbaijan, Algeria, Kuwait , Jordan, Ecuador, Iran And other countries.
1990
We started working on and researched CNC system data of server motor in 1990, had gone through the financial crisis in 1998, positively compared many brand of server motor's quality, stability. At first, we purchased two sets of assemble machines after testing more than 3 years, then officially produced server motor series of spring making machines in 2003.
2003
We produced CNC and programmable series of spring making machines officially in 2003.
2005/1
Our compression and coil spring making machines had passed through TUV and CE certification
in January 2005.
2007/10
Our CNC, compression and coil spring making machine series had passed through TUV and CE certification in October 2007.
2009
Our CNC controller matched with touch screen to invent guiding function in 2009.
2013
We developed compressing by new generation of controller, auto-edited program of coil springs, a built-in 13 styles of compression, coil spring design (you can add to new style) in 2013.
2014/1/20
We updated company's english name to An Su Yi Industry Co., Ltd. on January 20, 2012.
2014/3
We applied for new trademark in March 2014.
As from today, we start to use ASYM brand, produce and marketing advanced level of CNC spring mechanical products.
Follow Us
AN SU YI INDUSTRY CO., LTD.

886-4-7352312

886-4-7361643

No. 216-1, Chang Shin Rd., Sec. 2, Ho Mei, Chang Hua Hsien,Taiwan

www.suyispring.com.tw
Contact Us