LV INTERNATIONAL CO., LTD.
About Us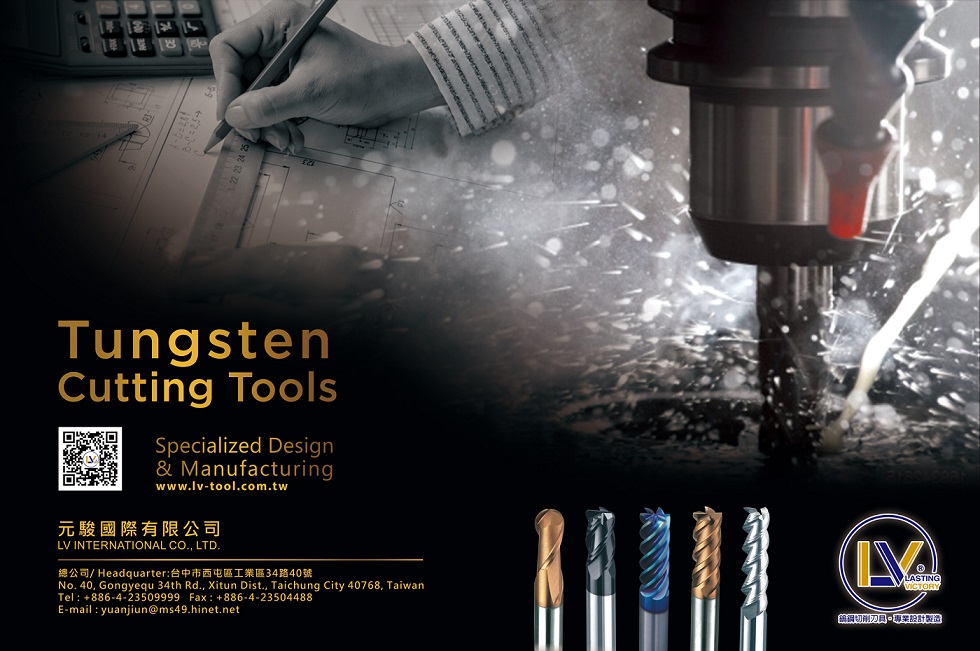 Established in Taiwan in 1995, LV INTERNATIONAL specializes in the design and manufacturing various of tungsten carbide end mills.
LV INTERNATIONAL sets up its new factory in Taichung Industrial area in 2014.
In order to provide high precision tools to customers, our production line equipped with the world famous CNC tool grinder from Germany, Japan, and Australia. Including the MAKINO SEIKI CNC tool grinders "MG30&SS7" which emphasis on its high precision and outstanding quality control management system.
We also choose the high-quality carbide rod from Japan & Germany. In order to control the quality and increase the productivity & efficiency, we decide to set up coating department with two coating machines.
All of this combines with our rigorous quality control system & the latest ISO 9001 international standards ensure each LV mill will fully meet customer's expectation.
We have deeply realized that the only way to obtain customer's dependability & build long-term cooperation is to provide the excellent quality of products which could improve production efficiency and save production budget.
Through the years of hard cultivation, LV INTERNATIONAL has grown to become one of the biggest carbide end mill manufacturer in Taiwan and we have accumulated comprehensive experience in manufacturing and marketing.
In order to face the rapidly changing of global market, we have progressively implemented the management philosophy of "Richly cultivating Taiwan while reaching out to the world" and "seek for perfection"
LV tool's been used in mold industries, automotive, aerospace, electronics, the variety of machine components. We export and supply our products worldwide covering more than 40 major industrial countries including China, Japan, Malaysia, Thailand, USA, India, Middle East, South Africa and Europe.
To offer better service, we provide OEM service and producing special carbide cutting tools, also producing non-standard end mills according to customer's requirements in relative industries.
In the future, we will devote to implementing research, innovation, global marketing, and service. We will continue developing new products and emphasis on its precision and quality to meet customer's demand in the variety of Industries.
Follow Us
LV INTERNATIONAL CO., LTD.

886-4-23509999

886-4-23504488

No.40, Gongyequ 34th Rd., Xitun Dist., Taichung City 407, Taiwan

www.lv-tool.com
Contact Us