LODIO ENTERPRISE CO., LTD.
About Us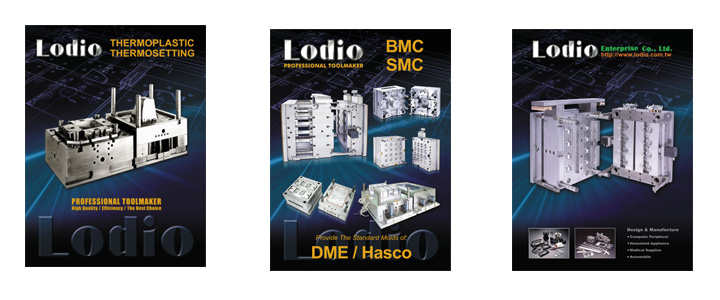 Lodio is a 100% Taiwanese company, we build tooling and serve our customers in Taiwan. Mr. Tony Lin with 50-year-old, the company owner started his career of tooling fabrication as a tooling designer with more than two decades experience now. He makes Lodio focus on the tooling design and assembling & mold initial trial out matters for serving our European and North American customers with good reputation since 1993.
Lodio familiars with DME system for American market's need and Hasco for Europe. Additionally the hot runner system, we have our own developed equivalent system for DME & Hasco system, this can make a budget selection for our customers. We build the tooling more than 100 sets as following items:
* Thermoplastic molds: Electric Home Appliance, Adhesive and Sealant Component Cartridges & Medical Precision Parts.
* Thermosetting molds : BMC/SMC electric power components & oven kitchen parts.
To approch our potential customers and comunicate with current buyers, Lodio participates the international plastic relative exhibitions such as: EuroMold in German, Europlast in France, NPE & Plastic Encounter in USA ..... and visit our buyers in face to face meeting once a year.
Follow Us
LODIO ENTERPRISE CO., LTD.

886-2-29081567

886-2-29081580

7F, No.651-2, Zhongzheng Rd., Xinzhuang Dist., New Taipei City, Taiwan

www.lodio.com.tw
Contact Us