ROTARY SURFACE GRINDER / HR-300AND
ROTARY SURFACE GRINDER
ROTARY SURFACE GRINDER / HR-300AND
HR-300AND
Precision grinding machine.
Surface finishing to mirror class.
Automatic Trim Compensation.
On line spindle vibration monitor.
Machine base fully supported design creating high rigidity structure.
Y, Z axis and rotary driven by AC servo motor.
Specification
DESCRIPTION
UNIT
HR-300AND
Rotary magnetic chuck dia.
mm
300
Maxi grinding radius
mm
175
Distance of table surface to spindle surface center
mm
360
Rotary magnetic chuck speed
r.p.m.
20-250
Rotary magnetic chuck horse power
W
750
Spindle motor
HP
3
Spindle speed (50/60Hz)
r.p.m.
3000/3600
Auto downfeed horse power
W
Servo Motor 500
Vertical hand wheel downfeed per revolution
MPG/mm
x1, x5, x10 /
0.1, 0.5, 1
Vertical hand wheel downfeed per graduation
MPG/mm
x1, x5, x10 /
0.001, 0.005, 0.01
Wheel size (dia x width x bore)
mm
180x13x31.75
Net weight / gross weight (approx)
kg
1600/1800
Packing size (LxWxH)
mm
2050x1450x2020
※ The manufacturer reserves right to modify the design,specification mechanisms etc. without notice.
MAIN PROCESSING ITEM
Precision bearings
Hydraulic components
Precision knife
Automotive components
Other Precision pars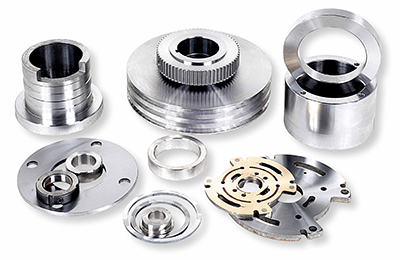 Workpiece Sample